Traxxas REVO 3.3 - 1/10 4WD Nitro Monster Truck with GREEN Graphics
NEW! Traxxas Stability Management System! (TSM)
TQi 2.4GHz Radio System with Traxxas Link Wireless Module
Factory Installed Telemetry Sensors
OptiDrive® ­Reversing Transmission
Rechargeable Receiver, EZ-Start® Batteries and 2-amp DC Peak Detecting Charger Included!
Bigger, Tougher, More Versatile Than Ever!

Monster innovation, monster versatility, and supreme size come together in the one truck that could only come from Traxxas. Now more than ever, the new Revo 3.3 defines what it means to be the pinnacle of monster truck performance, the standard bearer for cutting edge innovation and boundless capability that all others are measured against. The new Revo 3.3 is pure monster to its core with its massive presence, meaner gaze, and feature-rich capability. More importantly, Revo's advanced engineering equips it for fun, and the new Revo 3.3 delivers even more of it!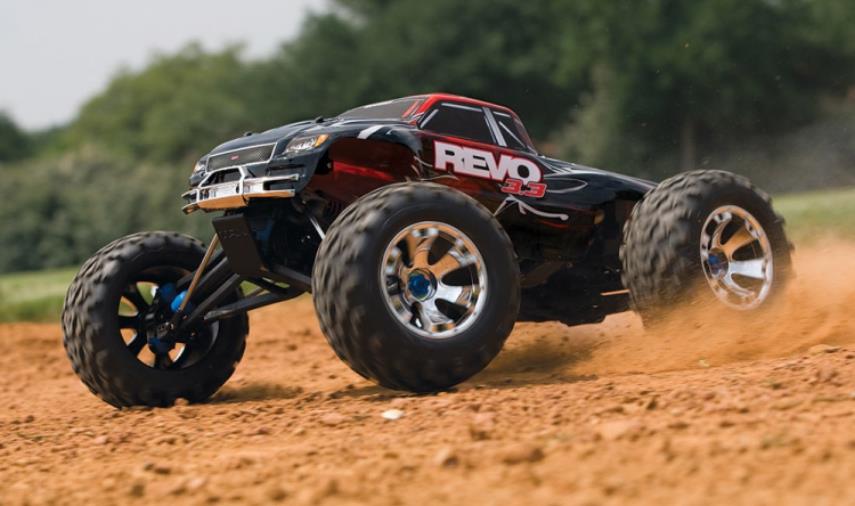 The Most Important Feature: Fun
Revo's specifications are more than just an impressive list of features. They are each specifically engineered and integrated into the model to provide capability and convenience that equates to fun! Revo 3.3's heavy-duty reversing transmission lets you easily back out of tight spots with the flick of a switch, while the OptiDrive® Electronic Transmission Control guarantees safe, smooth engagement every time. Revo engineering makes it the smoothest reversing system available on any nitro truck. The new Traxxas TQi 2.4GHz radio system features the exclusive Traxxas Link wreless Module, a revolutionary concept that harnesses the power of your Android, Apple iPad, iPhone or iPod touch to create the ultimate pro-caliber radio system. The TQi™ radio system keeps you in complete control with the latest 2.4GHz technology for no-crystals-required reliability and convenience. Just switch on and drive. ­New Geode™ chrome wheels with 17mm hex hubs wear massive 6.3" Maxx®-sized tires for big ground clearance and total traction in all conditions. Revo 3.3's dual-digital servo steering system delivers 250 oz.-in of torque for powerful, responsive handling, plus they're waterproof for ultimate reliability. The new Revo 3.3 is 100% Ready-To-Drive®—even a fuel dispensing bottle and rechargeable NiMH packs for the receiver and EZ-Start system are included, along with the chargers, extra oil filter, extra glow plug, precision tool set, and more! All the race-engineered advantages that make Revo a seven-time national champion on the track also make it the ultimate platform for all your monster truck fun. Revo durability is second to none, once the long travel rockers are installed, Revo has the most suspension travel of any monster truck.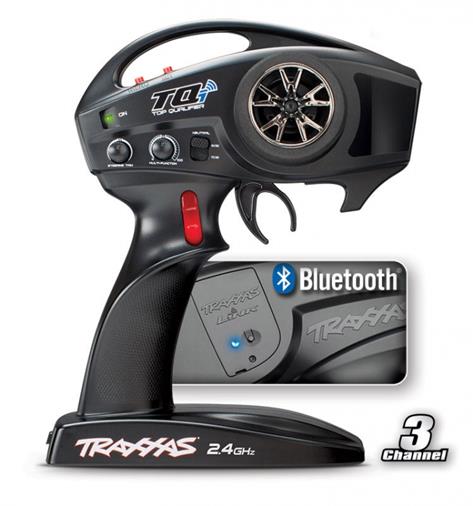 The World's Most Advanced Ready-To-Race® Radio System Now Connects Wirelessly to the Traxxas Link App
The Traxxas TQi paired with the Traxxas Link app is the most advanced, feature-rich, Ready-to-Race® radio system available. Now, TQi connects wirelessly to the latest Traxxas Link app for the ultimate in ease-of-use and control. The TQi radio system can be equipped with the Traxxas Link Wireless Module to unlock exciting features such as instant Bluetooth® connectivity; access to the full range of powerful TQi tuning and telemetry tools through an intuitive high-definition graphical interface; and the ability to have a friend remotely monitor real-time telemetry while you focus on mashing the throttle. Your co-driver can even make adjustments for you, remotely, while you drive. No other radio system can do that. Just like the speed and performance Traxxas engineers into the vehicles, the power and capability of TQi and Traxxas Link expands your fun into all-new territory. Only from Traxxas, The Fastest Name in Radio Control®.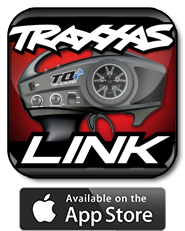 Powerful Traxxas Link Application - Available on Google Play and the App StoreTraxxas Link App. Gone are the clunky controls and blocky monochrome graphics of yesterday's radio systems. This powerful app gives you complete control over the operation and tuning of your Traxxas radio controlled model with stunning visuals and absolute precision. Traxxas builds the world's fastest Ready-To-Race radio-controlled models. That level of performance demands precision control. Traxxas Link gives you the tools for exacting adjustment and superior control while always keeping you informed on your model's status and speed.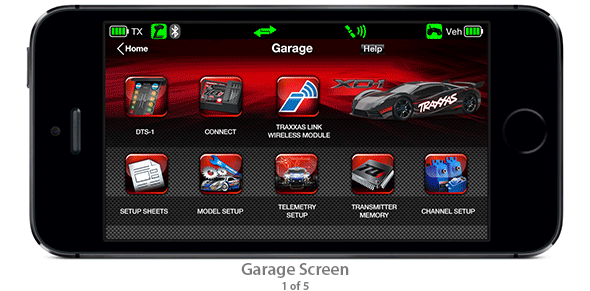 Factory-Installed Telemetry Sensors
Traxxas Link collects and records real-time telemetry data as you drive. When you equip your model with optional telemetry sensors, the Traxxas Link dashboard comes to life showing you speed, battery voltage, RPM, and temperature. The application automatically detects and recognizes Traxxas Link sensors for easy setup and configuration. The dashboard is fully customizable with either dial or digital readout gauges. Up to nine gauges can be displayed at once. Set threshold warnings and log maximums, minimums, or averages. Use the recording function to document your dashboard view, with sound, so that you can keep your eyes on your driving and not miss a single apex. If you forget to record, simply touch Instant Replay anytime to capture the previous minute of fun and unexpected triumphs. The recordings can be named and saved to compare, review, and share with friends.

Once you have created the perfect control settings for your model, you can save them as a profile that you can restore later, use on another model, or share with friends. If the track conditions change, simply re-tune your Drive Effects and save them as new profile. Only Traxxas Link makes pro-level transmitter tuning so fast, convenient, and easy.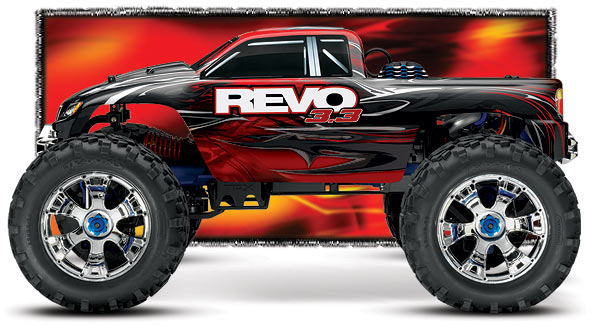 Wider, Taller, Stance For Maximum Monster Fun
Revo 3.3 is extra wide with an aggressive, high-riding monster stance thanks to the Geode™ wheels and massive 6.3" Maxx-sized tires. The rugged all-terrain treads have wrap-around lugs to give Revo 3.3 trail-shredding traction, and the wheels' extra offset ensure a sure-footed feel no matter how tough the terrain. Blue-anodized 17mm hex hubs with Traxxas' exclusive splined design guarantee every powerful stroke of Revo's class-leading TRX 3.3 engine is channeled directly to the wheels. The Geode wheels' durable show-chrome finish helps you look your best when you're at the front of the pack.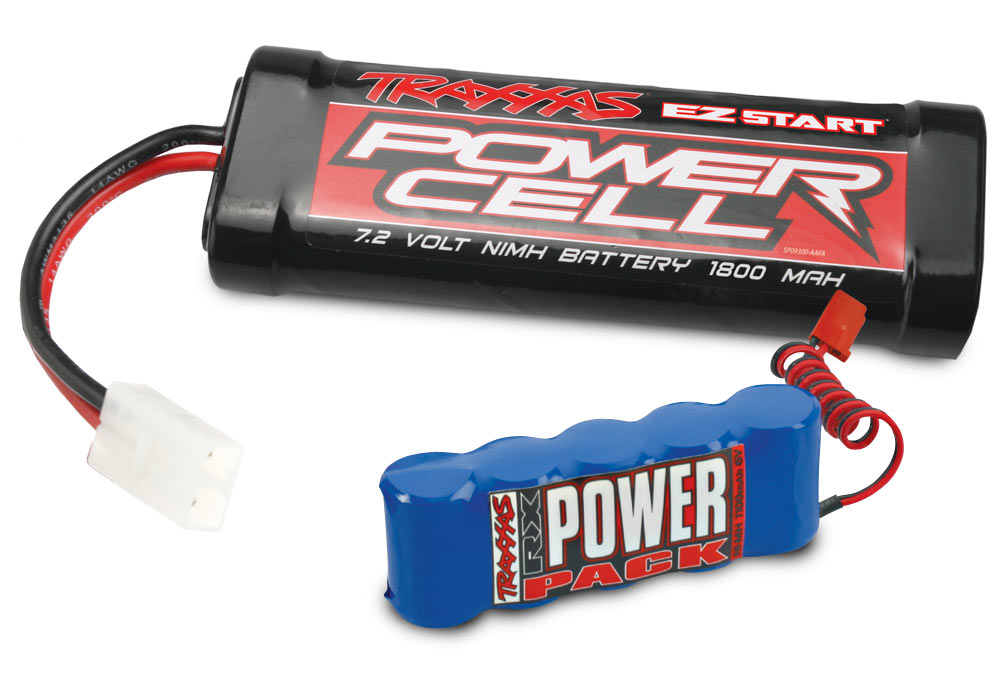 4AA Batteries and Fuel
That's all you need to go from the box to the backyard with the Revo 3.3—4 AA batteries for the transmitter, and OptiMix 20% RTR Fuel to pour into the tank. The Revo 3.3 is fully assembled, with pre-glued tires, a mounted and trimmed ProGraphix body and dialed-in electronics. But we didn't stop there; a high-quality 5-cell NiMH receiver pack, 6-cell EZ-Start battery and a 2amp DC Peak Detecing Fast Charger are included. A 500cc fuel bottle is also included for fast fillups, and there's even a spare glow plug and air filter element to keep you running strong. A precision metric specialty tool set is also supplied for easy servicing. Everything you need to experience nitro monster fun the Traxxas way is in the box.

REVO 3.3 (#53097-3) SPECS
Length: 525 mm
Front Track: 444.5 mm
Rear Track: 447 mm
Weight (no fuel): 4.69 kg
Center Ground Clearance: 108 mm
Height (overall): 280 mm
Wheelbase: 348 mm
Front Shock Length: GTR™ Aluminum (87 mm)
Rear Shock Length: GTR™ Aluminum (87 mm)
Front Tires: Maxx-Sized Tires 6.3"x3.8"
Rear Tires: Maxx-Sized Tires 6.3"x3.8"
Wheel Diameter: 3.8" (97 mm)
Suspension: Fully Independent Progressive 2 Rockers
Front Wheels: Geode™ mirror-chrome wheels with 17 mm Splined Hex Hubs
Rear Wheels: Geode™ mirror-chrome wheels with 17 mm Splined Hex Hubs
Gear Ratio (1st Gear): 25.55:1
Gear Ratio (2nd Gear): 16.31:1
Transmission: OptiDrive® Auto Two-Speed FWD/REV
Differential Type: Bevel Gear, Sealed, Limited Slip
Drive System: Shaft-Driven 4WD
Chassis Type: Extended Chassis, 3 mm, 6061-T6 Aluminum
Radio System: Traxxas TQi™ 2.4GHz radio system with Traxxas Link Wireless Module and TSM™ Receiver (3-Channel)
Engine (fuel-powered): TRX® 3.3 Racing Engine w/ EZ-Start®
Brake Type: Steel Disc with semi-metallic pads
Fuel Tank Capacity: 150 cc
Top Speed: 72+kmh
Skill Level: 4