Stampede 4x4 XL5 Monster Truck RED - With Battery & Charger

1/10 Scale Brushed High-Performance Monster Truck! Powered by Fun. Whether you're going through muddy water crossings or just having fun crushing your buddies' cars, the Stampede 4X4 just doesn't know when to quit. The Stampede 4X4 is overbuilt and Traxxas Tough to withstand all the 4-wheel drive monster mayhem you can dish out.

Its tall, drive-over-anything ground clearance and ultra-tough, long-arm suspension make Stampede 4X4 feel nearly indestructible. Chrome All-Star™ 2.8" wheels give Stampede 4X4 aggressive style, and soft Chevron Maxx™ tires deliver true multi-terrain capability. The XL-5 ESC and Titan 550 motor dish out plenty of driving excitement. It's all waterproof, so the fun keeps going through all kinds of wet conditions! No other truck offers Stampede 4X4's unique style, capability, and reputation for durability. Stampede 4X4 is perfect for almost any age driver or skill level and comes fully assembled, painted, and Ready-to-Drive with included 7-cell 8.4V NiMH battery pack and charger. Speed, style, versatility, and fun… Stampede 4X4 has it all!
NEW! Traxxas 4amp DC Peak Detecting Fast Charger

NEW!

Traxxas 7-cell NiMH battery with iD™
TQ™ 2.4GHz Radio System
Waterproof Electronics for All-Weather, All-season R/C Driving Excitement
Titan® 12-Turn 550 Motor
Powerful XL-5 Waterproof Electronic Speed Control
Tough fiber-composite construction
Chevron Maxx™ 2.8" tires with foam inserts pre-glued on chrome All-Star™ wheels
ProGraphix® painted body graphics
Powder-coated white springs
Traxxas' High-Current Connector (patented)
48+kmh! (with 21T optional speed pinion gear #423951)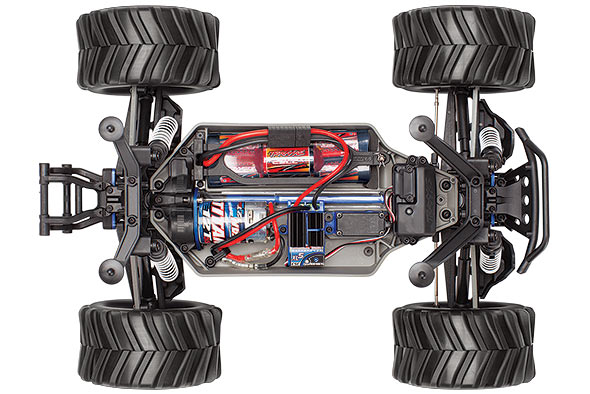 Chassis Optimized for Monster Fun
Stampede 4X4 is built on the proven performance of the advanced shaft-driven 4WD system and innovative modular design of the award-winning Slash 4X4. The chassis fully integrates the electronics and battery compartment for an efficient and compact layout, and maintains the high center ground clearance that gives Stampede its monster stance and high-riding look. The extra clearance drastically increases the off-road versatility that allows you to tackle rougher terrain and bigger obstacles. The Stampede 4X4 feels planted and secure at speed, even on pavement and in other high-grip conditions. Stampede 4X4 is 100% monster truck, but it handles like a racing machine!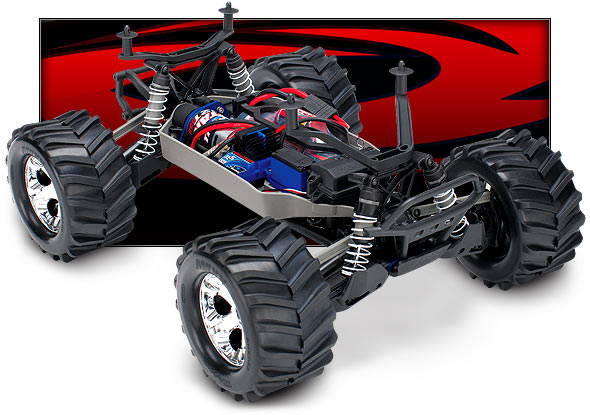 STAMPEDE 4X4 BRUSHED (#67054-1) SPECS
Length:
­
397 mm
Front Track:
­
340 mm
Rear Track:
­
340 mm
Center Ground Clearance:
­
75 mm
Weight:
­
2.57 kg
Height (overall):
­
227 mm
Wheelbase:
­
275 mm
Shock Length:
­
Long (front), XXLong (rear)
Tires:
­
Chevron Maxx™ 2.8"
Tire Diameter:
­
5.10 Inches (129mm) (front and rear)
Wheels (front/rear):
­
2.8" Chrome (All-Star™)
Wheel Diameter:
­
2.8 Inches (72mm) Outer
2.8 Inches (72mm) Inner
Speed Control Type:
­
XL-5™ Electronic Speed Control
Motor (electric):
­
Titan® 12T 500 (12-turn)
Overall Drive Ratio:
­
23.5 (stock, out-of-box)
Differential Type:
­
Hardened Steel Bevel, Sealed, Limited Slip
Gear Pitch:
­
32
Chassis Structure/Material:
­
Molded Tub / Nylon Composite
Drive System:
­
Shaft-Driven, Direct Drive 4WD
Steering:
­
Dual-Bellcrank with Integrated Servo Saver
Radio System:
­
TQ™ 2.4GHz (2-channel)
Body:
­
ProGraphix, Traxxas Stampede
Top Speed:
­
48+kmh**
Skill Level:
­
1
*Battery Tray Dimensions:
­
142 x 48.5 x 23/25 mm
Included Charger:
­
Traxxas 4amp DC Peak Detecting Fast Charger
Included Batteries:
­
Traxxas 7-cell NiMH battery with iDTM
Required Items:
­
4 "AA" Batteries (for transmitter)

*With optional speed pinion gear (sold separately)


XL-5 (WATERPROOF) ESC SPECIFICATIONS
Input voltage:

4-7 Cells NiMH, 2-Cell (2S) LiPo

Case Size:
W31 x D55 x H15.5 mm
Weight:
69 gr
Motor Limit:
15-turns** (540 Size)
12-turns** (550 Size)
On Resistance Forward:
0.007 Ohms
On Resistance Reverse:
0.014 Ohms
Peak Current - Forward:
100A
Peak Current - Reverse:
60A
Braking Current:
60A
Continuous Current:
14A
BEC Voltage:
6.0 VDC
BEC Current:
1A
Power Wire:
14 Gauge / 5"
Input Harness Wire:
26 Gauge / 9"
Transistor Type:
MOSFET
PWM Frequency:
1600 Hz
Low Voltage Detection (LVD):
2-Stage indicators, switchable (on or off)
Thermal Protection:
Thermal shutdown
Profile selection:
Sport Mode:
100% FWD, 100% brakes, 100% REV
Race Mode:
100% FWD, 100% brakes, no REV
Training Mode:*
50% FWD, 100% brakes, 50% REV
Single-button setup:
Yes, Traxxas EZ-Set®